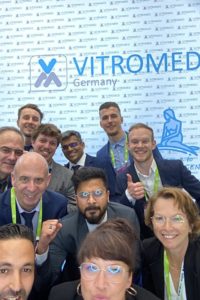 VITROMED's unforgettable participation at ESHRE 2023 provided us once again with incredible learnings and connections during this amazing event.
ESHRE held a truly unique experience in Copenaghen this year. From the moment we arrived, we fell in love with the dynamic and exciting atmosphere of the place and enjoyed every keynote speaker, workshop, and panel discussion about the latest developments and innovations.
These days also gave us the opportunity to launch and showcase our new medium V-CARE. Our latest breakthrough in providing a sterile and safe environment for your laboratory-assisted reproductive techniques. Find out more here. And speaking of lab techniques, we pleasingly announced our new IVF Labware webpage featuring an extended collection of lab products designed to cope with the demands of your Laboratory procedures. With user-friendly navigation and detailed product descriptions.
We are excited to continue innovating to bring new material to the fertility community and to serve our clients with the highest quality devices and services.
Overall, all of you made this time so special, from casual conversations over coffee to formal meetings. The chance to connect with you and make valuable partners that will give the assisted reproductive technology sector plenty of benefits for years to come.
What a truly remarkable experience. We left filled with inspiration, motivation, and renewed energy and we look forward to meeting you again in Amsterdam next year. Together, we fulfill people's biggest dream of having a baby.
We are proud of our team's dedication and hard work to make a lasting impact on attendees. We put a video presentation that captures the essence of this reunion and VITROMED's unforgettable participation. Make sure you don't miss anything on our Youtube channel.
We look forward to reuniting again at next year's event. Until then, Farvel Denmark, and best wishes to all!