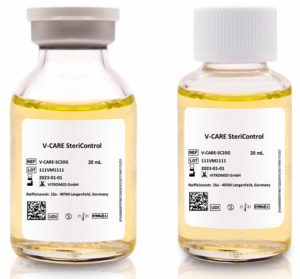 At VITROMED we pride ourselves on taking the utmost care in everything we do and with whom we do it. That's why, after the unpleasant experience we all had with COVID in the recent years, we've learned to keep improving.
We're thrilled to introduce our latest development V-CARE. This product has been designed to provide a safe and effective way to control over sterile liquid handling processes used in assisted reproductive technology (ART). This ensures that your lab working area is free of harmful bacteria, like having a personal assistant who specializes in keeping things clean and orderly.
V-CARE is simple to use and doesn't require specialized training or expertise, making it an easy and cost-effective way to manage a sterile working space.
Take a step forward to a cleaner, safer, and more efficient lab environment. With V-CARE SteriControl, you can count on consistent quality control through the entire sterilization process and maintain high standards and reliable results. Let's raise a 20 ml glass to sterilization! And keep an eye on our website and social media channels, Facebook and Linkedin for more information.