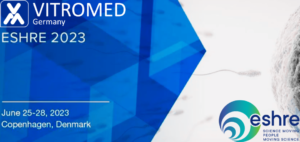 Hello, fertility enthusiasts! We're excited to announce the upcoming 39th Annual Meeting of ESHRE, taking place in the charming city of Copenhagen from June 25th to 28th, 2023. Following the triumphant event in Milan in 2022, we are thrilled for ESHRE 2023 and looking for an even more enjoyable experience in one of Europe's most picturesque capitals, where we'll continue to deliver our innovative products and engage in meaningful conversations where sharing our expertise and passion for reproductive medicine and many more surprises.
Follow ESHRE and VITROMED on social media to stay up-to-date with the latest news, updates, and announcements related to the conference.
We hope you are as excited as we are to meet in Copenhagen. So, mark your calendars, pack your bags, and join us for an amazing time at ESHRE 2023!